If you're looking for a relaxed and family-friendly holiday destination, look no further than the charming town of Busselton, Western Australia. Situated adjacent to the Margaret River Region, Busselton is known for its stunning beaches, an abundance of outdoor activities, it's proximity to world-class wineries and, of course, the famous Busselton Jetty!
With so much to see and do, you'll want to come back again and again. Whether you're looking to spend your days relaxing on the beach, surfing, or fishing; exploring the region's beautiful wineries and caves; or walking and biking the many nearby trails, there are many things to do in Busselton that the whole family will enjoy.
Here is our guide to some of the best things to do in Busselton, as well as some family-friendly accommodations to ensure an unforgettable family holiday!
What to do in Busselton with your family?
Make a bee-line for the beach
With over 18 kms of beaches, Busselton is the perfect place to relax and soak up the sun with your family. The calm turquoise waters make it ideal for swimming, paddling, and stand-up paddle boarding, while the waves further out are perfect for surfing and boogie boarding. If you're feeling adventurous, why not try your hand at windsurfing or kiteboarding?
As the sun begins to fade, you and your loved ones can head to the foreshore to enjoy a beautiful Instagram-worthy sunset over the Indian Ocean.
Great fun at the playgrounds
Busselton is home to some of the best playgrounds in the Margaret River Region. For the young ones, the Busselton Foreshore, will spoil them with choice. The award-winning 'Sea Play by the Bay' playground, modeled after an ancient wooden whaling ship, is an excellent starting point.
Kids can climb the crow's nest, ring the ship's bell, or get splashed with water beneath the whale's tail after they've stepped 'aboard.' Make sure you don't miss the enormous orange Kraken at the playground's jetty end, which is so much fun to climb.
For smaller children, go to the designated toddler play space, which is just a short walk from 'Sea Play by the Bay.' This sensory-rich playground includes portions of a repurposed railway carriage and rails, as well as interactive buttons and dials that tiny toddlers are sure to enjoy.
The Busselton Foreshore West Playground, located outside the Equinox Café, although a little less extravagant, is closer to some of the town's most popular cafés and eateries. There are also plenty of picnic tables, drinking fountains, and BBQs if you want to enjoy a family meal overlooking the jetty and Geographe Bay. This is an ideal place to gather for stunning sunset views.
Visit a working farm
Just outside of Busselton, you'll find several working farms where you can purchase fresh produce and eggs, and meet some friendly farm animals. The kids will love getting up close and personal with the cows, sheep, chickens, and ducks, while the adults can enjoy a cup of tea or coffee in the farm café.
Sunflowers Animal Farm is one such farm, located just 10 minutes north of Busselton. Visitors can take a tour of the farm, meet the cows and calves, and even try their hand at milking a cow. Make sure to stop by the on-site café for delicious Devonshire tea or homemade ice cream.
For something a little different, head to Wonky Windmill Farm & Eco Park, where you can feed and walk these friendly animals. You can even purchase your very own alpaca wool products in the popular on-site shop.
Visit Busselton Jetty
Photo by Orion Chan on Unsplash
The Busselton Jetty is the longest wooden jetty in the southern hemisphere. When it comes to fishing, this is one of the best places in Western Australia. with many anglers hauling in big catches of herring, and snapper. At night it is common to catch glimpses of Blue Manna crabs and squid glinting in the moonlight at the water's surface. It's also a great place to take a leisurely stroll or simply enjoy the stunning views.
Explore the caves
Photo taken from Margaret River Region website
The Margaret River Region is home to over 150 caves, many of which are located just a short drive from Busselton. These caves were formed over two million years ago and are a fascinating natural wonder to explore.
The most popular cave near Busselton is Jewel Cave, which offers both self-guided and guided tours. The guided tour is recommended for first-time visitors, as it provides an in-depth look at the cave's history and formation. Jewel Cave is also one of the largest caves in Western Australia, with over 16 kilometers of passages to explore. The Ngilgi Cave is another of the most popular, offering guided tours that take you through its stunning chambers and passages.
If you're looking for something a little more relaxed, head to the Caves House Hotel & Day Spa.
If you're feeling adventurous, you can also go spelunking in the caves of the Leeuwin-Naturaliste National Park. Just be sure to bring a flashlight and wear sturdy shoes.
Outdoor activities
In addition to the beach and parks, there are plenty of other outdoor activities to enjoy in Busselton. Families can go for a bike ride along the scenic coastline, go hiking or horse riding in the nearby forests, or even take a Segway tour!
There are several parks and gardens in Busselton, perfect for a picnic or a game of frisbee. The town's botanic garden is particularly beautiful, and kids will love the playground and free-flying birds.
One of the most popular paths is the Geographe Path, which runs from the Busselton Foreshore to Dunsborough for a total of 31-kilometers all paved. But, do not worry; it's possible to turn around at any point for a shorter ride. In the summer, look for bobtail lizards sunbathing on calmer sections of the trail, as well as dolphins frolicking in the water nearby.
If there's some time for a drink
The Margaret River Region is renowned for its world-class wines. There are over 30 wineries in the Margaret River Region, many of which are located near Busselton. This is one of the best places in Western Australia to enjoy a wine-tasting tour.
Some of the most popular wineries near Busselton include Vasse Felix, Cape Mentelle, and Leeuwin Estate.
Family-friendly accommodation in Busselton
There is plenty of accommodation in Busselton to suit families of all sizes, from small apartments and cottages to larger holiday homes. Here's a list of three of our family-friendly accommodations in Busselton.
Fernweh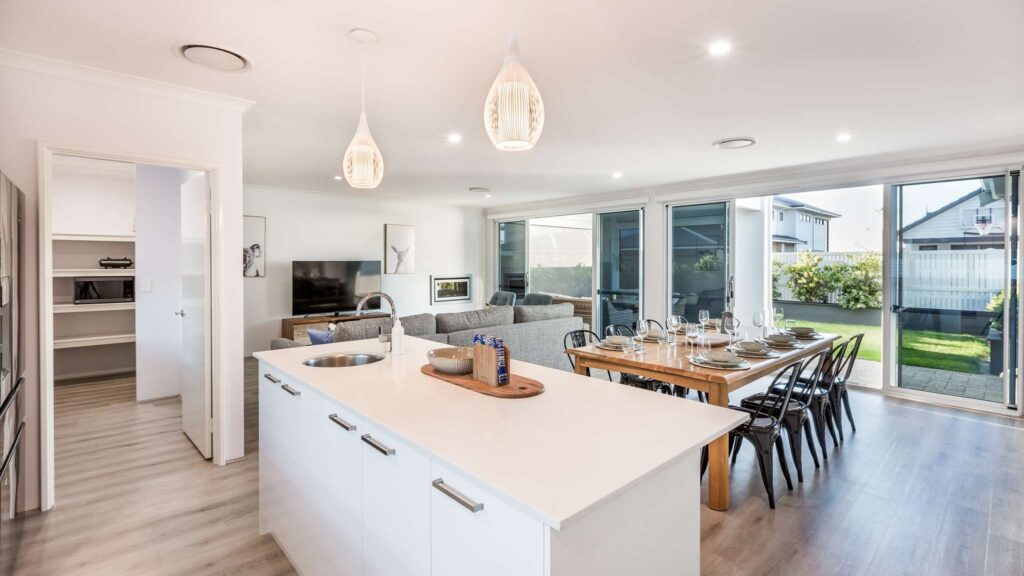 Fernweh is the ideal location for your family getaway, with the infamous Busselton Jetty only 5 minutes away and located directly opposite the beach. The fully equipped kitchen includes a double oven, which is ideal for family dinners alfresco in the summer or even in the winter with the café-style blinds. The spacious open-plan kitchen, dining, and lounge area overlooks the grassed garden.
A Wave From It All
A Wave From It All is the ideal accommodation for family holidays in Busselton. The deck area opens onto a large deck with city views. The Busselton Tennis Club is just across the road in central Busselton, and there are a variety of activities within walking distance. The living area opens onto a spacious deck with views of Busselton and Geographe Bay.
Marine Life
Marine Life has thought of every detail to suit the family's way of life. Miele appliances have been fully integrated into the main living, dining, and kitchen areas. Take a trip to Marine Life to see and feel the quality, it speaks for itself. A TV room with a large LED Smart TV is ideal for the kids to unwind after a day of exploring. The main living area's bi-folding doors set a peaceful tone and invite the outdoors in.
With so much to see and do, it's no wonder Busselton is such a popular holiday destination for families. So what are you waiting for? Start planning your trip today! And don't forget to check our complete listing for more holiday rentals in Busselton.
3 common questions families ask about a Busselton Holiday
1. How far is Busselton from Perth?
The distance from Busselton to Perth is 22 kms and takes approximately 2.5hrs to drive.
2. Does Busselton have an airport?
Yes, the Busselton Margaret River Airport is one of the most important in all of Western Australia, and is located approximately 7kms from the centre of Busselton. The airport is owned by the City of Busselton with flight services to/from Perth and Melbourne as well as other smaller regional centres.
3. Does Uber operate in Busselton?
No Uber does not operate in the area, however, there are options for taxi services.