The Margaret River region is one of the top wedding destinations in all of Australia. This world-renowned coastal destination is known for its surfing, beaches, and vineyards – making it the perfect place to say "I do." Unsurprisingly, with its beautiful beaches, lush forests and stunning vineyards, it's no wonder that more and more couples are choosing to tie the knot in Margaret River.
Aside from people and scenery, perhaps the best part about getting married in Margaret River is the predictability of climate. This region has a temperate climate, which means there are no extreme summers nor harsh winter conditions to plan around. If you're envisioning an outdoor ceremony with ocean views or a reception surrounded by vineyards, then the wedding venues in this region will exceed your expectations.
There are many beautiful and romantic wedding venues in the Margaret River region, so you're sure to find one that's perfect for your big day. Whether you're looking for a glamorous beachside ceremony or a rustic country affair, you'll be spoiled for choice. Whatever your style, you're sure to find a venue that will make your wedding day truly unforgettable.
Here are our top 5 picks:
Tiller Dining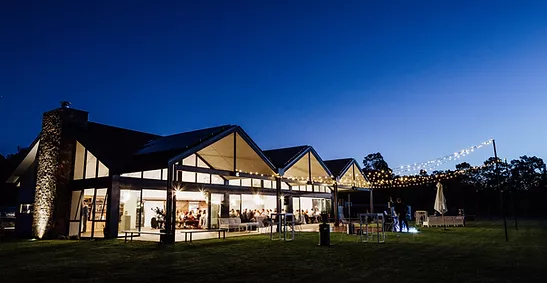 Weddings at Tiller are wonderfully unique experiences. From the moment you arrive at Tiller, you will be swept away by its natural beauty. Set in Yallingup on their 50-acre property, their beautiful dining room has north-facing gabled windows where you and your guests can watch the beautiful Westerly sunset. You'll enjoy food that has been grown from the very paddock in front of you, and the views are simply inspriring.
Tiller Dining uses the freshest local produce to create a unique dining experience for your guests. Whether you're looking for a casual buffet or a more formal sit-down meal, they can tailor a menu to suit your needs and preferences. They pride themselves on creating a unique and memorable experience for all of your guests. Their farm is the perfect setting for a rustic or countryside-themed wedding, and they're sure you'll love every minute of your special day.
Aravina Estate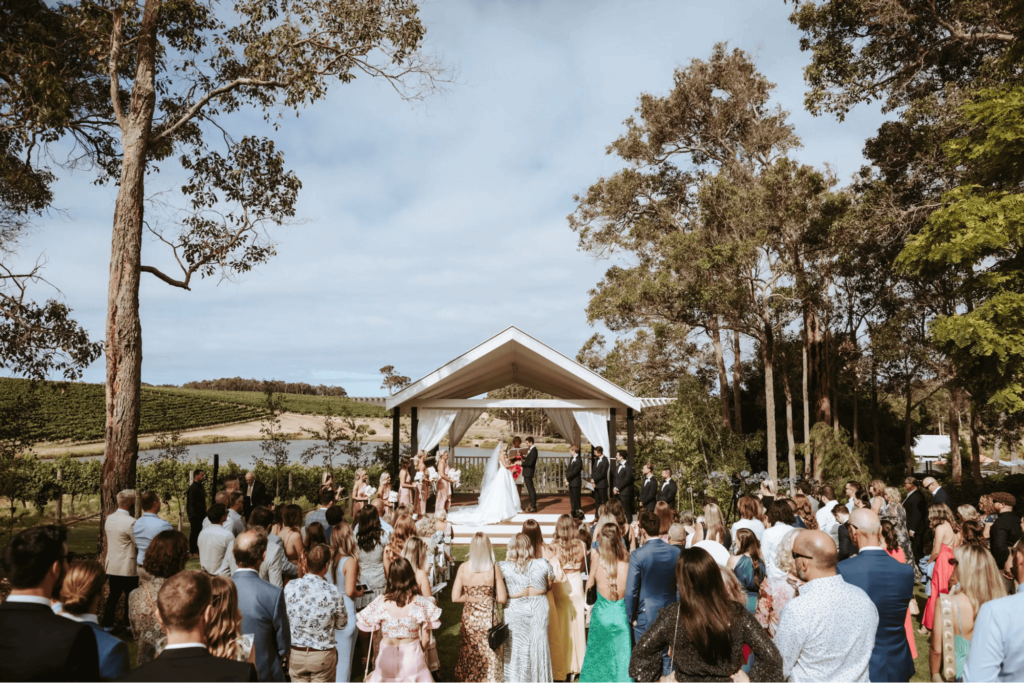 Aravina Estate is renowned for its romantic setting and spectacular views. Nestled amongst the vines, their Wedding Gardens are the dream place to exchange your vows and celebrate your love. They also have a beautiful outdoor setting with stunning views of the vineyards and rolling hills. Which makes the most romantic backdrop for your special day photos.
This estate offers two unique and beautiful venues for your wedding – the chandelier lit Grand Chardonnay Room or the rustic Southwest Reserve Barrel Room. Both rooms offer a luxurious and elegant setting for your special day.
Their dedicated wedding coordinator will work with you to ensure every detail is perfect, from the menu to the wine pairing. The chefs will create a world class menu to suit your event, whether it be a relaxed cocktail style or a formal sit-down dinner. And of course, no wedding is complete without dancing the night away! Aravina Estate is the ideal setting for a magical and unforgettable wedding day.
Margaret River's Secret Garden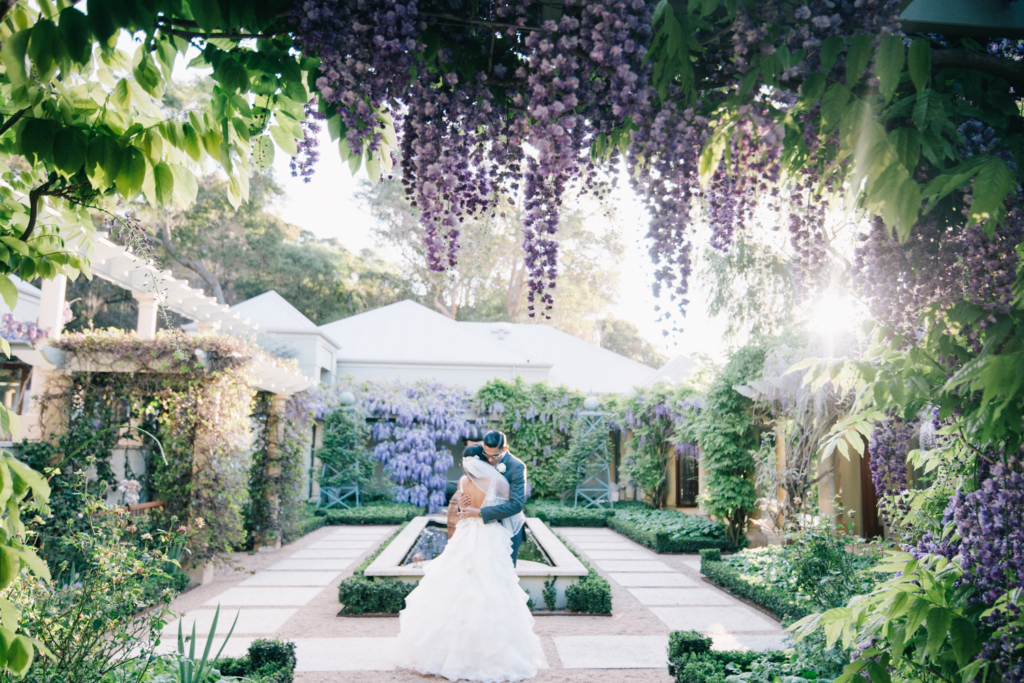 If you've been dreaming of a fairy-tale wedding, this hidden gem in Western Australia is sure to make your dreams come true. With its enchanting peppermint forest and purple wisteria, picturesque ponds and waterfall, the Secret Garden is a photographer's dream come true. Plus, you get exclusive use of the lovely Iris Garden Guesthouse for your wedding-day preparation. This is definitely a once-in-a-lifetime experience to have your wedding in an incredibly magical setting.
Designed by leading landscape architect Paul Bangay, Margaret River's Secret Garden is a classical European-style oasis set amidst the breathtaking beauty of the Australian bush. The perfect setting for a milestone day, the garden strikes a balance of beauty and harmony, with plenty of space for you and your guests to enjoy. From the moment you arrive, you'll be swept away by the romantic atmosphere, making it the perfect place to start your new life together.
Black Brewing Co
The combination of traditional stonework and modern architecture makes for a beautifully balanced statement, but also makes Black Brewing Co one of the most stylish wedding venues in Australia. Set overlooking a lake and surrounded by established vineyards, they are the quintessential all-season Margaret River wedding setting. Their venue offers incredible culinary creations, exquisite wines and craft beers as well as attentive staff.
Black Brewing Co can accommodate up to 250 guests for a seated dinner or 400 guests for a cocktail-style event. The open plan restaurant is stunning, with open fireplaces, high ceilings, and beautiful interior design. The large windows with floor-to-ceiling views allow for year-round natural light. They also have beautiful small weddings and gatherings for 50 to 80 people in their tasting room. The brewery encourages guests to make the venue theirs for the day and utilise the space as they please.
Your Margaret River wedding will be one you and your guests will never forget!
Howard Park Wines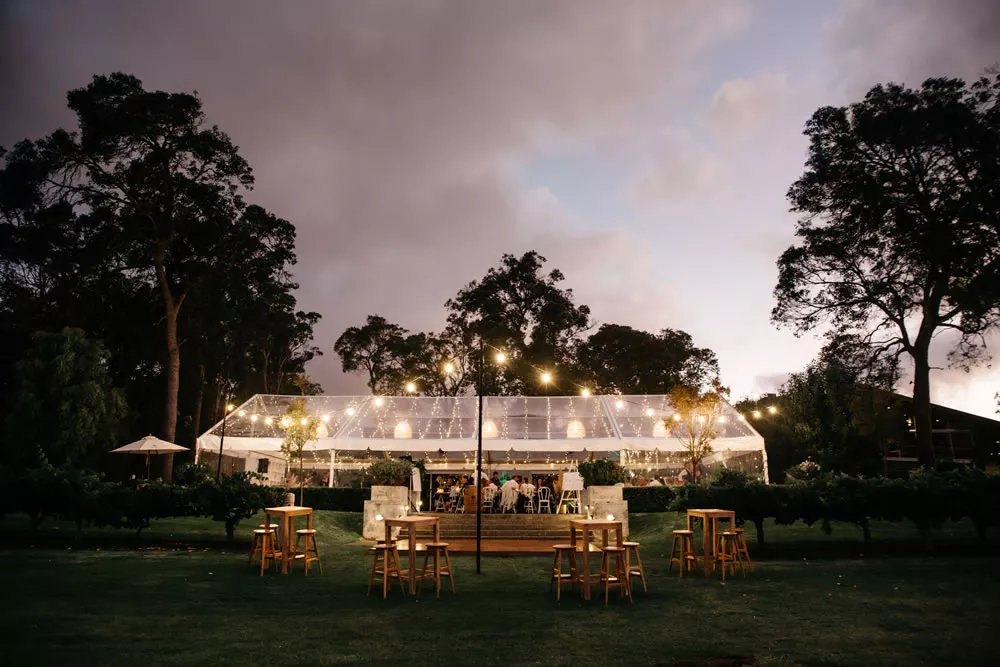 Howard Park Wines is a one-of-a-kind wedding venue in the Margaret River. Architecturally designed and elegantly finished, the Wine Chapel provides a sophisticated setting for your special day. With its high ceilings, beautiful chandeliers and floor-to-ceiling windows overlooking the vineyards, the chapel is a stunning backdrop for your ceremony.
After the ceremony, you and your guests can enjoy delicious food and fine wine in the Howard Park restaurant, before heading out to the courtyard for drinks under the stars. With its exceptional food and wine, world-class setting and attentive staff, Howard Park Wines is a venue that you and your guests will remember long after your special day.
Those were our top 5 wedding venues in Margaret River. We hope this article helps you in planning for your dream wedding. No matter which one you choose, you'll surely have a magical day.
If you don't live in this region, be sure to book your Margaret River accommodation for a good night's sleep before and after the big day!
FAQ – The 3 most commonly asked questions by soon-to-be newlyweds:
Where are some of the best wedding venues in Australia?
You can find many beautiful wedding venues throughout Australia. Some of the best ones are in Margaret River. They are Tiller Dining, Aravina Estate, Margaret River's Secret Garden, Black Brewing Co, and Howard Park Wines.
How much does a wedding venue cost in Australia?
The average cost of a wedding venue in Australia is $6,000, but prices can vary depending on the location and size of the venue. Couples should take care to budget for other expenses as well, such as catering, decorating, and entertainment
What are the top cities for weddings in Australia?
While there are many stunning wedding locations to choose from across the country, some cities stand out as being particularly popular for weddings such as Melbourne, Sydney, and Margaret River.