Are you heading down south over summer? We're sure you're planning on spending a considerable amount of time at the beach. Whether you love to swim, surf, snorkel, or just breathe in the salty air, the South West is the region for you.
It's no surprise that whenever you see photos promoting WA, the South West coastline is front and centre. The contrast of turquoise-coloured water and blindingly white sand never get old. Even those of us who are lucky enough to live down here still marvel at the beauty of the beaches in the South West!
The South West is more than jaw-dropping views though. The coastline is also renowned for the water-based experiences it offers. There are waves to catch, shipwrecks to explore, marine life to see, and secluded beaches that are sheltered from the swell. You could actually dedicate your whole holiday to ocean adventures!
In case you do centre your holiday around the water, we've compiled a list of the best South West beaches in the Margaret River region. It's by no means an exhaustive list (we could write a novel) but we're sure you'll find one that will suit your holiday.
Margaret River beaches
Gnarabup Beach
Picking our favourite Margaret River beach is like picking our favourite child – impossible – so we've started with the most iconic one in the region. Gnarabup Beach is 10 minutes from Margaret River town and is suitable for swimmers and surfers alike. You get an eyeful of the curving coastline and river mouth, which you can marvel at from the cliff lookout. There's also a jetty, boat ramp and public toilets. Need a coffee? White Elephant Cafe is ready for your caffeine fix.
Boodjidup Beach
Boodjidup Beach is a secluded beach further south of Gnarabup Beach accessible from Redgate road. It offers fairly consistent waves during summer, particularly during February, but we recommend only going out if you're an experienced surfer. Like the quiet? Boodjidup Beach might be for you. The 2kms of coastline is often secluded as it's more "off the beaten track" than other spots, and is a lovely place to take a reflective stroll.
Dunsborough beaches
Meelup Beach
Bringing the kids on your Dunsborough holiday? You'll want a beach with smooth water, little wind and grass for picnics. Meelup Beach is perfect for you! It's sequestered in a valley inlet with shaded areas under the native trees, as well as picnic amenities so you can cook a barbecue and relax in-between swims. It does get a little busy over summer, so head in early to get a prime spot!
Point Piquet
Point Piquet is a little more rustic than the pristine beaches we have previously mentioned. The rocks and vegetation make it great for photos but a little harder to swim – not impossible though, you just have to do a little climbing. It's also a great fishing spot. It tends to be quieter than other beaches in the area (Eagle Bay and Meelup), so we love to stop here and ponder.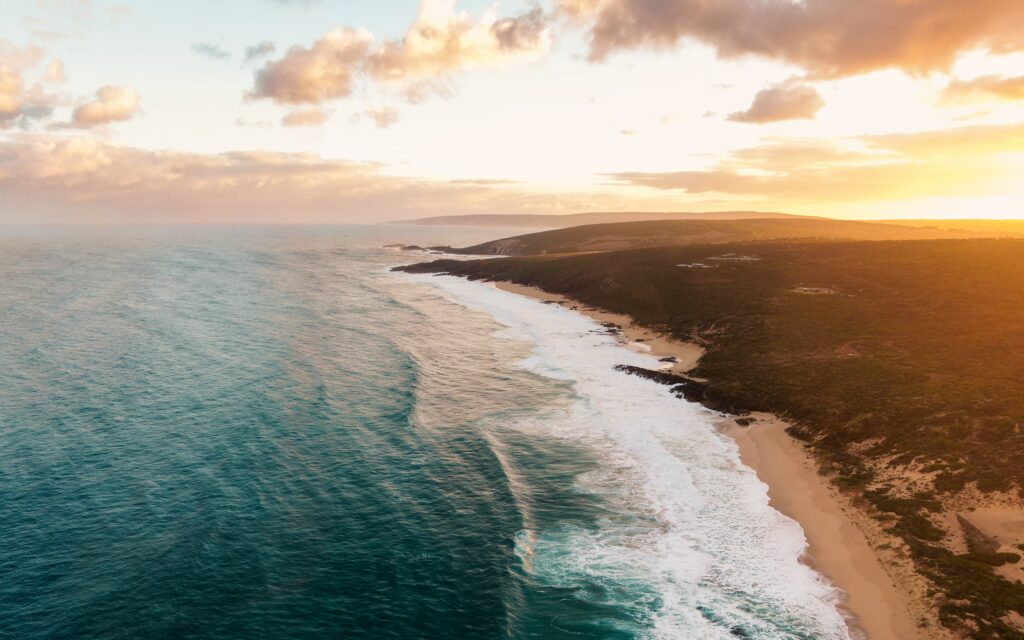 Yallingup beaches
Smiths Beach
Smiths Beach is the Gnarabup Beach of Yallingup. It's a 1km long stretch of beach popular amongst the locals. It also attracts tourists because it's suitable for swimming and the breaks are ideal for beginner surfers. You can book surfing lessons and hire equipment at the local surf shop. Smiths Beach is a lovely spot for sunset walks and taking in the ocean views.
Indijup Beach
If we're talking about the best beaches in the South West, we can't skip Injidup Beach, regardless of how many Instagram posts there are of this magical place. Known for Injidup Spa where rock formations create a natural foamy spa and a mini waterfall, Injidup Beach will give you an impressive view from the lookout and deliver multiple photo opportunities for the camera roll.
Cape Naturliste beaches
Bunker Bay
A favourite in the Exclusive Escapes office, Bunker Bay is a sheltered beach around 15 minutes drive from Dunsborough at the tip of Cape Naturaliste. It's ideal for swimming, surfing, snorkelling and there are rocks where you can drop a line. You can grab a coffee or bite to eat at the local cafe before soaking up the sun. There's also disabled access to the beach, so if accessibility is a priority, we recommend staying nearby!
Eagle Bay
Eagle Bay sits between Meelup Beach and Bunker Bay. It's a long stretch of coastline easily accessible from the accommodation nearby. WA's most lavish getaways are located in this area, with breathtaking views of the sapphire blues of the water and the pearly whites of the sand. The beach is calm and shallow – perfect for families with smaller children. Eagle Bay is home to HMAS Swan dive wreck where beginner to experienced divers can immerse themselves in an underwater adventure.
We've well and truly settled into summer now, so it's time to grab your towel and a juicy summer read, and basque in the sun. Are you still looking for a place to stay? Take a look at our properties and secure one near the ocean.
---
Related Topics